Carbon Filter for Ductless Hoods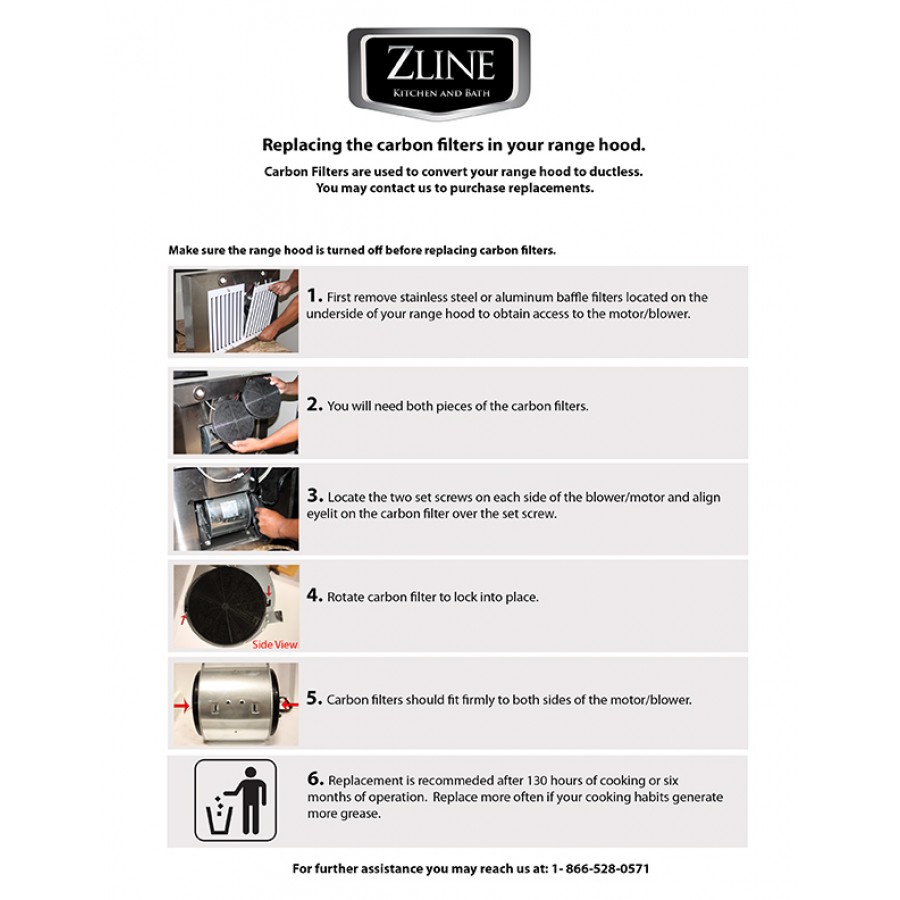 Buy now at our trusted retailers:
Features:
• A quiet and clean kitchen. ZLINE carbon filters are designed to be extremely effective at removing odors for ductless hoods.
• Compatibility. ZLINE carbon filters are compatible with every one of our ductless range hoods
• Easy to clean and maintain. Depending on cooking habits, it is recommended to change your carbon filters every 4-8 months to ensure a clean kitchen. Just remove the high quality stainless steel baffles, throw them in the dishwasher and insert your new carbon filter. No grease left behind!
BENEFITS OF EXCELLENT RANGE CIRCULATION
We recommend hoods be placed 30 to 36 inches above the cooktop. A hood's width should be equal to the range top or up to 6 inches wider, according to personal preference. There are multiple benefits to ZLINE hoods:
Air Circulation and Air Quality: A kitchen can get extremely hot while cooking. ZLINE hoods are designed to move air away from the kitchen, clearing unwanted particulates. The right type of hood can improve the efficiency of your ventilation system and remove the odors that come naturally with cooking. With a ZLINE hood, the cooler the kitchen will feel, and the better it will smell.

Improved real estate value. Are you looking for an upgrade to your kitchen that boosts your home's real estate value, whether real or perceived? Many buyers find wood range hoods to be an indicator that sellers took their kitchen revitalization seriously.

Better-looking and cleaner food preparation area. Cleaning grease stuck to surfaces around your kitchen can be a difficult process. With the right wood vent hood, you'll have fewer oil droplets hanging in the air.